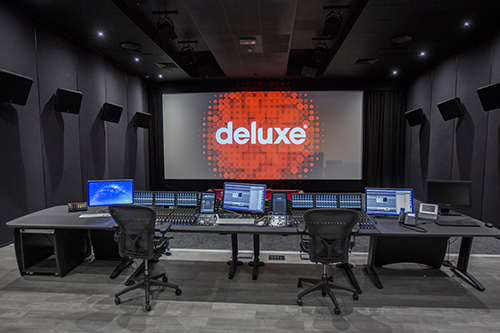 Scrub, the post-focused subsidiary of HHB Communications, supplied the audio equipment for a new, multi-theatre Deluxe Media Audio facility in Perivale, north-west London.
Scrub worked with the Deluxe Media Audio team to specify, install and commission a 10ft-wide dual operator Avid Pro Tools | S6 M40, one of the largest S6 control surfaces in the UK, at the heart of the site's flagship room, Theatre 1. Used for foreign language services, Deluxe Media Audio is also looking to provide English language services at this new facility.
Combining two M40 24-fader configurations for 48 faders controlling multiple Pro Tools | HDX systems, the S6 also benefits from the addition of two Pro Tools | S6 Joystick Modules. As some of the first installed in the UK, the S6 Joystick Modules enable sound to be positioned anywhere within the 48-speaker configuration Dolby Atmos theatre.
In order to accomplish the summing and monitoring of the multiple Pro Tools | HDX systems, Scrub also supplied a custom-configured DAD AX32. The DAD AX32 is fed MADI from two permanent Pro Tools systems which is then routed out for Dolby Atmos processing, back into the
AX32 before being distributed to the amplifiers. The DAD Pro | Mon software allows for complex stem monitoring configurations and is controlled directly from the S6 M40 Master Touch Module touchscreens. With room to spare, the DAD AX32 has capacity for an additional two Pro Tools rigs to be connected via MADI when larger jobs are in.
Scrub also supplied IHSE Draco vario digital KVM extenders for the facility install. Draco extender products provide the highest quality DVI video transmission. For enhanced flexibility, Deluxe Media Audio chose to add Draco matrix switches enabling any Pro Tools system to be placed on any screen. Additionally, Draco Vario KVM extenders integrate directly with the S6, making it possible for the console-mounted DVI screens and USB devices to follow whichever Pro Tools workstation is selected from the console.
A wide range of other hardware and software solutions completes the facility, in addition to the decommissioning and reinstalling of the equipment from the Deluxe facility in Denham, Buckinghamshire. In total, Scrub moved three 32-fader D-Control consoles and an Avid ICON D-Command ES control surface.
Mark Sheffield, Director, Audio Operations, Deluxe Media Audio, says: "We had a two week window for the move from the facility in Denham to Perivale Park. We had to move three old consoles and install the new S6 as well as install all the Pro Tools systems and all the peripheral gear. Scrub came in and got the job done within those two weeks. We finished the install and the alignment of the rooms on a Friday evening and we were mixing our first set of feature films on a Monday morning."
Devin Workman of the Scrub sales team says of the install: "Scrub has a long relationship with Deluxe's UK Media Audio division, having previously installed ICON systems and helping in upgrading to HDX. We are thrilled to have been part of this project and continue to support Deluxe Media Audio at the new site in Perivale. The combination of dual operator S6, DAD AX32, Dolby Atmos and IHSE Draco KVM extenders makes their Theatre 1 on the cutting edge of integrated technology. They set a tight delivery schedule but with the help of our experienced support engineers, we were able to help deliver and allow the staff to hit the ground running at the new facility."